Backpacking Boracay – The beautiful country of the Philippines is known for its colorful festivals, authentic delectable native cuisines, picture perfect landscapes and sceneries. As well as its interesting diverse cultures, welcoming charming people and a lot more. Making this nation as one of top world destination to travel in 2016 and 2017 according to huge magazine sites online.
    Aside from that, the Philippines is also home to some of the most breathtaking falls and lakes, secluded beautiful islands and white and pristine beaches in the world. From the farthest and remotest island in Luzon up to the last and uttermost secluded islands of Mindanao. Anyone who travel the country can surely find a place where they can call it a paradise. To name a few of popular Philippine travel destinations are the monuments and national Museums of Manila, Rice Terraces in Ifugao, Chocolate Hills of Bohol. The picturesque windmills of Ilocos, Enchanted River in Surigao Del Sur, Subterranean River National Park in Palawan and the world renowned beach in Boracay.
Must Read: 2017 Must Visit Less Crowded Beaches and Islands in Visayas
      Speaking of Boracay, we just have visited the island earlier the months of December this year 2016. And if you're already planning to visit the island in the following years, we have gathered few information and tips that could probably help your future Boracay trip easier and smoother. Hopefully you'll find this article helpful and informative. Enjoy!!
The Size, Location And Other Information:
      Boracay in the province of Aklan is just one of 7,000 plus stunning must visit island in the Philippines. Located 2km northwestern of Panay Island in Western Visayas Region VI. With approximately 315 km distance from the south of the capital of the country – Manila. This world renowned destination is widely known for its white sand beach, turquoise clean water and vibrant nightlife.
     But even with its popularity, it is still home to some ethnic groups  of the island. Namely Aklanon, Karay-a, Hiligaynon and Ati with only over 12,000 estimated population as per Wiki  2010 census. In addition from our friendly sources, the island comprises into 3 barangays which is Balabag, Yapak and Manoc-Manoc in the municipality of Malay in Aklan.
For information : Boracay Beaches posted an article about History of Boracay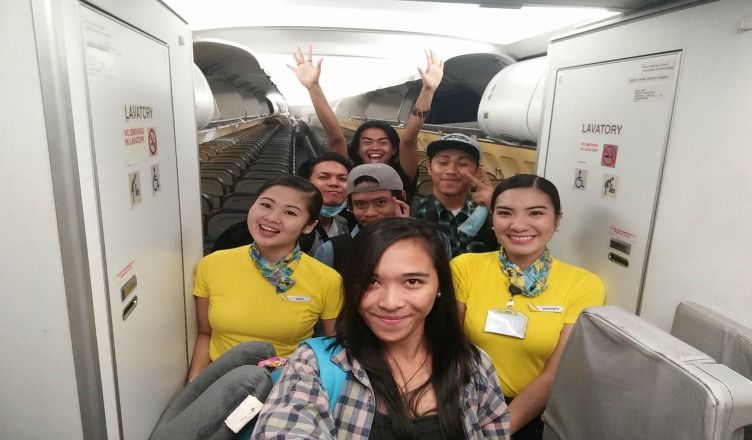 How To Get To Boracay?
    Getting to Boracay is actually very easy. Simply because there are just two convenient ways to get to island. First is a flight via Caticlan, basically nearer to Boracay but flight cost is more expensive. To get there you'll just consume a 10-15 minutes tricycle ride from Caticlan Airport to the Caticlan Jetty Port. Next is an estimated 15-20 minutes boat transfer to Cagban Port and another 5-10 minutes tricycle ride to your hotel and viola you're already at Boracay.
From Caticlan Airport:
PHP 10-20.00 – Tricycle From Caticlan Airport To Caticlan Jetty
PHP 100.00 – Caticlan Jetty Terminal Fee
PHP 75.00 – Caticlan Jetty Environment Fee
PHP 25.00 – Boat Transfer Fee To Cagban Port
PHP 15-20.00 – Tricycle Transfer to Hotel
       Second is via Kalibo, in which flight cost is way more cheaper compare to Caticlan. But since it's cheaper, you'll still be on estimated 1-2 hours land trip to get to Caticlan Jetty Port. Then from the port, a boat transfer awaits you to Cagban Port and lastly a 5-10 minutes tricycle ride is needed to get to your hotel. See below for price range for each mode of transportation going to Boracay:
From Kalibo Airport:
PHP 25.00-50.00 – Tricycle Going To Terminal Of Vans and from the terminal to jetty port it cost only PHP 100.00
PHP 150-200.00 – Van/Bus From Kalibo Airport direct to Caticlan Jetty Port
PHP 100.00 – Caticlan Jetty Terminal Fee
PHP 75.00 – Caticlan Jetty Environment Fee
PHP 25.00 – Boat Transfer Fee To Cagban Port
PHP 15-20.00 – Tricycle Transfer to Hotel
Must Read: 6 Must Have Gadgets for Traveling
Where To Stay In Boracay?
     Boracay is basically divided into 3 sections namely: Stations 1 where all expensive and luxurious hotels are located. Station 2 the center and heart of Boracay, where all mid-range prices hotels/hostels can be found. Lastly the Station 3, the backpackers place to find a budget friendly boarding house/hostel. For hassle free and easy booking, our reliable partners Agoda and Booking,com offers wide selection of accommodations that suits your needs and budget.
   In our case: We have 2 days stay in Boarding House Boracay for only 1600/per day. Good for 5-6 person with free breakfast and dinner. The room is fully air-conditioned with own bathroom, cable TV and WIFI. Prices for their room changes depending to the month you visit and packages you avail. For more information you can just contact them with these numbers (0916 766 5959) or visit their official Facebook Page for promos and discounts: Boarding House Boracay
Boarding House Boracay is located near Bloomfield private school, besides BIWC Water Company.
Note: Visiting Boracay in a large group would totally let you save more bucks. As most hotels/hostel/boarding houses offers accommodation for group packages. Which may include water activities like Island Hopping, Helmet Diving and etc. for free.
You might also consider checking this out: List of Hotels and Resorts in Boracay Island
Where To Dine In Boracay?
     Food tripping in Boracay is totally one of the best and memorable things you can do. As almost every street of the place has food stalls and store that offers mouth-watering food. From international cuisines like Mexican, Indian, Korean, Italian and etc. up to the local fast food chains like Mang Inasal, Andoks, McDonalds, Shakeys and a lot more. So to sum up, dining in Boracay in general would totally not a problem. Note: Just expect prices would be a little expensive.
Are There Places In Particular Not To Miss in Boracay?
      Of course there will always be places or establishments you should never miss especially when you visit a new land. So to help you guided, here are our list of Boracay attraction you should see it yourself:
| | |
| --- | --- |
| Beaches and Sceneries: | Clubs and Establishments: |
| | |
| | |
| | |
| | |
| | |
| | |
| | |
| | |
| Punga Bunga & Banyugan Beach | |
| | |
| Boracay Butterfly Gardens | |
| | |
Activities You Should Never Missed In Boracay:
     There are a lot of things you can do in Boracay. It's only just a matter of time and weather, courage to do all extreme activities and most importantly a matter of money. Now if you think you have no problem to any of those mentioned above, then we highly recommend you should try any of these Boracay activities and entertainment:
For more detailed information about these activities visit:  AwanderfulSole official website.
So When Is The Best Time To Visit Boracay?
     The Philippines in general experiences only 2 major weather system. So expect either a rainy season if you visit the island in the start of Ber months up to February (Boracay this time is more relaxed and peaceful. Also the prices for hotel accommodation and outdoor activities this time are cheaper).
Must Read: 5 Reasons On Why You Should Not Miss Island Hopping In Mactan When Visiting Cebu
     Or you can either choose summer season (March to July) where events and parties are in demand but expect hotel prices and other activities would be expensive. So to answer the question, "Anytime could be the best time to visit Boracay. It's all up to you if you will risk to visit the island in September to- February cause its more peaceful and way more cheaper than summer
In our case: We're lucky enough that during our 2 days stay (December 11-13) in the island, the weather seems very sunny and no signs of raining.
Becoming A Local In The Boracay:
     The more you spend more a night in the Boracay, the more you will experience and appreciate of how Filipino people warmly welcomes their visitors. Either you're just a local newcomer curious on what's the hype in the island or a foreign vacationer, people from the island will try to communicate you in your comfortable language.
Must Read: 5 Easy Tips To Book Cheapest Hotel Deals For Upcoming Holidays
     But even with the countless memorable opportunities when you experience being a local in this beautiful island. There will always be hostile people trying to ruin up your day, persuading you with their overprice goods or services in exchange for your money. So the best way to avoid it, is saying "NO" to them and most importantly planning ahead before visiting the island.
Backpacking Boracay – Other  Friendly Tips:
For your groceries in Boracay we suggest Budget Mart in Dmall 2. Since the prices of their goods are not so expensive compare to other convenience store in the island.
Before you avail any services in Boracay ask if there are anything you will be paying. Because you might be shocked that there are service charge, obligatory tipping and other hidden charges in your bill.
For fresh seafood, meat, chicken and Boracay souvenirs just head over to D'Talipapa for wide variety of choices.
ply as soon as we can!
Visit other works of Mark at https://thetravelmark.com/